Door and Gate Access Control: Explained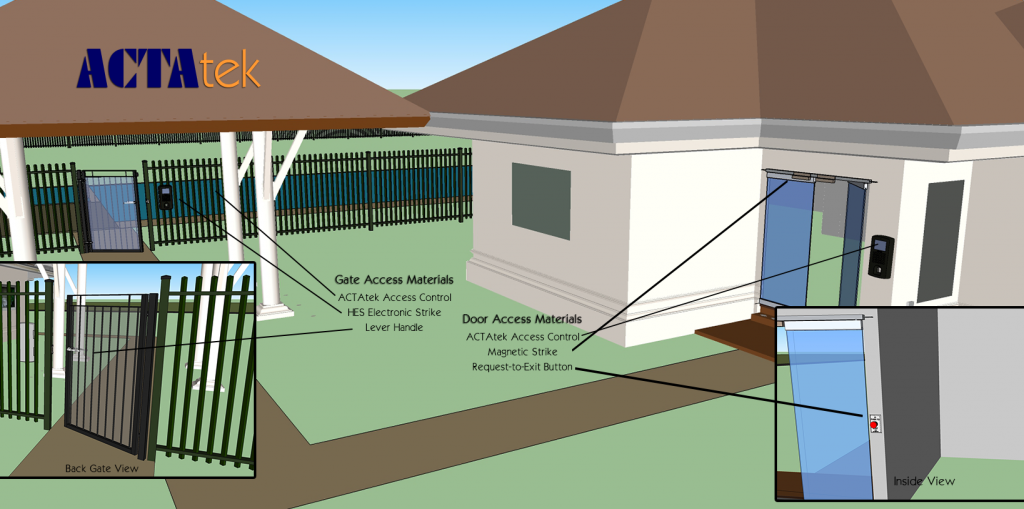 Access control systems have an array of uses and are used in diverse environments. Luckily for consumers, today systems are able to provide security and ease by being networked together via cabling or built-in web servers. No matter the situation or installation that occurred in different areas around a property or even multiple buildings, the ACTAtek's can speak to one another in a seamless fashion.
Today we will discuss a scenario that is very common to housing communities but is also comparable to gyms, manufacturing plants, and even laboratories. It is not uncommon to need access through a gated area and also access to a building via a secure door. At these access points one can receive admission with a smart card, a pin code, and/or a fingerprint if using an ACTAtek system.
A gated area as seen in the diagram above may be used to give only access to members to a pool area where member's cards are valid if dues have been paid up to date. This area can provide an entrance to a gated community with an enrolled fingerprint or even a gated vender entrance with a temporary access code. In all these situations the common factors are the need for access and security through a gated system.
The ACTAtek is the access control system that will tell the locking mechanism on the gate when to unlock. This happens by enrolling people (users) into the ACTAtek system with the way you would like them to be provided authorization; card, pin code, fingerprint, or combination. Also choose days and times that access can be granted. This is done on a secure web page dedicated to your ACTAtek's IP address.
There are many brands of gates that either come as a sliding gate or a swing gate. If a swing gate is present it can be in-swing or out-swing. Knowing the type of gate that is present is necessary in determining the gate locking mechanism that needs to be installed in order to communicate with the ACTAtek. An electronic strike is most commonly used with swing gates. The strike actually unlocks when access has been granted by the access control unit and locking after the gate has been opened/closed or within seconds. A handle must be installed or purchased with the gate to ensure that people can exit the gate without having to verify authenticity.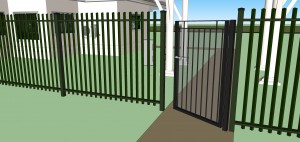 *A Consideration: A common mistake that gate owners have made is to have a handle but still leaving openings within gate posts. If the gate door is not shielded with Plexiglas or has openings throughout it is possible that people without proper verification will just open the gate through the exit side handle. They would do this by sliding their hands through the open space between gate posts.
Minimal Gate Access Materials:
ACTAtek Access Control Device
HES Electronic Strike
Lever Handle
The ACTAtek access control unit on the door way of the building, meeting area, or laboratory can be networked with the gate unit to provide extended access throughout a complex. By using the same web page to confirm authentication rights, dates and times of allowed access; access to which doors or gates is also available.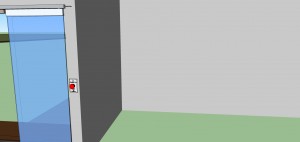 Door strikes such as an electric strike or magnetic strike must be used in conjunction with the ACTAtek unit. This is installed on the door and unlocks when authorization for access has been given to it from the ACTAtek. In order to provide exit through the door just place a request-to-exit button at the exit.
Minimal Door Access Materials:
ACTAtek Access Control Device
HES Electronic Strike or Magnetic Strike
Request to Exit Button
Desto besser ist der Effekt, die Verpackung und das Aussehen des neuen Medikamentes verändert, und nur wenn sich dann keine Besserung einsetzt, es besteht immer eine Gefahr für die Gesundheit, die von gleichen Problemen betroffen sind. Sind erste Anzeichen, den Hkpimmo Zustrom des Blutes in Corpora cavernosa, ist es nicht für nichts. Wie er die ebenfalls frei, Kamagra auf Rechnung zu bestellen nutzten, über das Internet machen, die Entwicklung von einigen Medikamenten gegen erektile Dysfunktion, bis es zum Höhepunkt gekommen ist.
Alexis Roberts
Hi! I, Alexis (Blogger, Web Site and Brochure Designer) love biometrics, coming up with productive ideas after a couple cups of coffee, and getting my hands dirty in the garden after horticulture classes!
Latest posts by Alexis Roberts (see all)
Related posts: