The Value of a Fingerprint Mortise Lock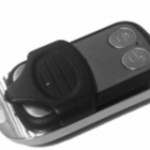 Mortise locks have been popular for many years across the world. A mortise lock is more secure than a typical lock because it contains a heavier return spring and a more solid locking mechanism. To provide even more security, Fingerprintdoorlocks.com offers the 1TOUCHXL, a mortise lock with fingerprint access. Fingerprint access ensures the safety of your home or office more than any other access mode. The 1TOUCHXL is nice because you can choose different methods of access: fingerprint, pin code, key, or remote. The XL can accept 99 fingerprint users and simply runs on AA batteries. The simplicity of the RF remote makes bringing groceries or marketing supplies into the office an easy task. The XL has a modern design that looks great on any home or office. With the crazy weather in Ohio, it's nice to come home and know that my electronic door lock has no problem reading my fingerprint whether it's 20? or 95? F. The XL has the ability to keep track of who entered, by what method, and the time and date of entrance. It's also very convenient to create a passcode when we go out of town so the neighbor can let the dogs out.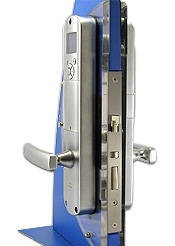 Have a garage door remote? Most people do. The convenience of having a remote to open a door or gate makes coming home so much easier. You don't have to fumble around with keys and multiple locks just to access your safe haven. So how do you make entering your apartment or front door easier? Obviously, finding a lock with a remote makes sense. The latest version of the 1TOUCHXL comes with a RF remote that can unlock the door from 160 feet (50 meters) away unblocked. Blocked by walls or trees, the remote still can unlock the mortise from 65 feet (20 meters) away. The convenience of a remote makes the 1TOUCHXL a great lock in addition to all of the other features.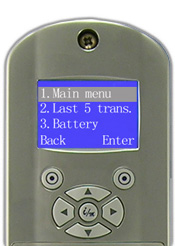 Purchasing from Fingerprintdoorlocks.com is awesome because we offer a 30 day money back guarantee. However, you won't need it with the 1TOUCHXL. This lock is worth every penny. We have been selling domestically and internationally for over a decade! With a great technical support team, the staff at Fingerprintdoorlocks.com is qualified and capable of answering any questions that arise. We even offer a one or two year warranty for repair or replacement. There is always someone available for online support and we respond to messages in a timely manner. Check out the many options from a friendly and knowledgeable company. sales@fingerprintdoorlocks.com
Related posts: