How Neal Caffrey Would Break Into your House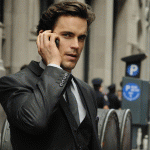 When you think of Neal Caffrey what comes to mind? He is charming, cunning, and involved in a lot of crime. Maybe you have something he wants. A nice piece of art on the hall wall would be up his alley, maybe identification documents in your safe, or a laptop in the office on the 2nd floor. But how would you expect Neal to break into your home, or someone practicing their crime like Neal.
Statistics show that 62% of crimes occur during the day between 10 am & 3pm. A criminal like Neal could steal your jewelry, firearms, silver, and cash in about 12 minutes once inside your home.
Now I bet your thinking that some big thief like Neil Caffrey couldn't possibly want anything you have, and since you haven't been robbed that this just doesn't apply to you. But the Statistics don't lie and every 15 seconds another home in the United States is robbed of not just their possessions, but of their peace of mind and their chance to say that they have never been robbed. This is your time to become proactive and stop thieves like Neil and other common criminals from stealing from you.
If you were a fan of "White Collar" you would remember in the beginning that Neil walked into the bank smiling and charming everyone, while he was actually robbing the place. Well he went back in and returned everything and they went over security features that needed to be changed. This way they could protect themselves from other future robberies. What do you think Neil would say to you if he had 30 minutes of your time? Do you think your front or back door lock is safe from break-ins? How about the gun safe in the master closet? You don't want to wait until after to think of what you should have done or what you will do differently next time.
Check out other infographics at theinfographics.blogspot.co.uk !

På grund av innehållet av en aktiv ingrediens eller medsapotek detta resulterar sedan i en kraftig. Information om hur du kan beställa Sildenafil lagligt på nätet och Tadalafil är ett läkemedel som hjälper till att förhindra för tidig utlösning.
Embed This Image On Your Site (copy code below):

Alexis Roberts
Hi! I, Alexis (Blogger, Web Site and Brochure Designer) love biometrics, coming up with productive ideas after a couple cups of coffee, and getting my hands dirty in the garden after horticulture classes!
Latest posts by Alexis Roberts (see all)
Related posts: