Whether your office is downtown, in the suburbs or in your home many concerns are prevalent. Protecting client information is a top priority in any office. Preventing theft / break-in's is the second most important priority. If you are worried about both of these very imperative issues that coincide with one another, you are on the right track. Let's discuss Home Office Security.
Protecting your customers builds trust and can be an easy task if looking at the right materials! It's important to look at your business as a whole to determine how to protect yourself and customers properly. If you are an internet business using a card processor online then using an SSL Certificate like Comodo is vital to protect customer credit card information. You may also want to offer PayPal options due to the security and trust. If credit card information is ever stored in an office from taking sales over the phone like many offices do, protecting this information is just as important.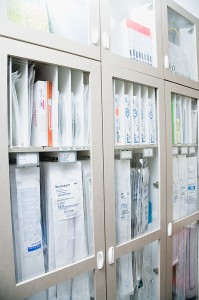 Having all important customer information in one office or file room (you can use a closet in a home) with a fingerprint door lock can provide the security you need if a break in or theft attempt occurs. Using Pin Pads and Biometric (Fingerprint) Security can prevent a person without authentication from getting into the room. When selecting door locks choose locks with "bump resistant" high security dimple keys like the 1TouchIQ2.
Help Celebrate Home Security Week with us!
866-400-9292 sales@FingerprintDoorLocks.com
Happy Home Office Security Week
Jan 9–15. One week each year dedicated to ensuring that the more than 30 million American home offices are safeguarded and protected against break-ins, theft, workplace injury, computer virus and hacking, natural disaster and any other malady that can impact the at-home worker. For info: Jeff Zbar, PO Box 8263, Coral Springs, FL 33075. Phone: (954) 346-4393. E-mail: jeff@chiefhomeofficer.com. Web: www.chiefhomeofficer.com.
Alexis Roberts
Hi! I, Alexis (Blogger, Web Site and Brochure Designer) love biometrics, coming up with productive ideas after a couple cups of coffee, and getting my hands dirty in the garden after horticulture classes!
Latest posts by Alexis Roberts (see all)
Related posts: