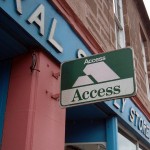 Many of the locks at FingerprintDoorLocks.com have ADA Complaint handles. You may wonder What does ADA Compliant Mean?.
Being ADA complaint means that a product is within the regulations set forth by the American with Disabilities Act.
The standards presented can be found at : http://www.ada.gov/regs2010/2010ADAStandards/2010ADAStandards.pdf
If you have questions about which products are ADA Complaint please see our product pages or call.
866-400-9292  513-239-6322
Alexis Roberts
Hi! I, Alexis (Blogger, Web Site and Brochure Designer) love biometrics, coming up with productive ideas after a couple cups of coffee, and getting my hands dirty in the garden after horticulture classes!
Latest posts by Alexis Roberts (see all)
Related posts: