What is a Mortise Latch?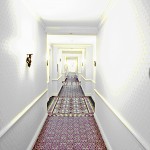 When checking out the 1TouchXL or other mortise latch locks, you may wonder, "Have I ever seen a mortise latch?" These particular latches are almost always seen on office doors, hotel rooms, US doors from the 1940's, and international style doors. They incorporate a deadbolt and teeth to create high security for these areas, where security is very important.
Major difference from a single latch:
Mortise latches tend to be roughly the size of VHS tape and needs to be inserted into the door.
USA standard mortises tend to be a little wider and international tend to be thinner.
Most USA Standard Mortise latches have ability to interchange with other major key-ways, manufactures such as Medeco, Schlage, and Yale.
The 1Touc
hXL is thinner than a typical USA standard latch and is more of a European style – it has an automatic deadbolt!
Do not assume all USA standard mortise latches are the same or are interchangeable with international. Please call a representative to see if yours is compatible.
Contact:
John F.
johnf@fingerprintdoorlocks.com
John is a writer and technical guru for Intelligent Biometric Controls, Inc. that is constantly tinkering between cooking amazing lunches and explaining access control to anyone that will listen.
Latest posts by John Falk (see all)
Related posts: