Home Office Security Week
Whether your office is downtown, in the suburbs or in your home many concerns are prevalent. Protecting client information is a top priority in any office. Preventing theft / break-in's is the second most important priority. If you are worried about both of these very imperative issues that coincide with one another, you are on the right track. Let's discuss Home Office Security.
Protecting your customers builds trust and can be an easy task if looking at the right materials! It's important to look at your business as a whole to determine how to protect yourself and customers properly. If you are an internet business using a card processor online then using an SSL Certificate like Comodo is vital to protect customer credit card information. You may also want to offer PayPal options due to the security and trust. If credit card information is ever stored in an office from taking sales over the phone like many offices do, protecting this information is just as important.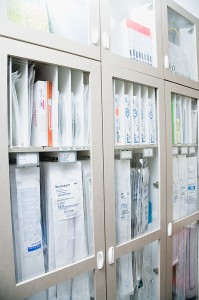 Having all important customer information in one office or file room (you can use a closet in a home) with a fingerprint door lock can provide the security you need if a break in or theft attempt occurs. Using Pin Pads and Biometric (Fingerprint) Security can prevent a person without authentication from getting into the room. When selecting door locks choose locks with "bump resistant" high security dimple keys like the 1TouchIQ2.
Help Celebrate Home Security Week with us!
www.FingerprintDoorLocks.com
866-400-9292 sales@FingerprintDoorLocks.com
Happy Home Office Security Week
Jan 9–15. One week each year dedicated to ensuring that the more than 30 million American home offices are safeguarded and protected against break-ins, theft, workplace injury, computer virus and hacking, natural disaster and any other malady that can impact the at-home worker. For info: Jeff Zbar, PO Box 8263, Coral Springs, FL 33075. Phone: (954) 346-4393. E-mail: jeff@chiefhomeofficer.com. Web: www.chiefhomeofficer.com.
Read more: http://www.answers.com/topic/home-office-safety-and-security-week#ixzz1iyTQ3vCz
 Critical Physical Security Tips To Keep Your Business Safe
Protecting your business from physical security threats is critical to the success of your business. Here are five security tips to keep your business safe.
In the security world, there is a lot of concern over cybersecurity – and for good reason. According to a University of Maryland study, there is a cyber attack every 39 seconds. However, physical security is equally important and here's why:
Businesses are 4x as likely to be burglarized than homes.
Small businesses lose $25K to $33K every minute to shoplifters.
Employee theft affects 64% of all small businesses.
The average business can lose up to 5 percent of its revenue to fraud.
So how do you keep your business safe from these types of threats?  Here are five physical security tips that you need to know to help protect your business.
1.    Secure Your Property from the Outside In.
Most modern criminals are smart. They will scope out a target business in advance and look for its vulnerable spots. This often starts on the outside. They will look for things like security cameras, gates with locks, access points such as doors or windows into the building that they can use, etc. So, do an assessment of the outside of your property to look for any weak spots.  Seek the support of a surveillance company if you need help assessing your property.
2.    Keep Your Business Well Lit.
Lighting is critical in order to prevent or identify potential threats. Outside of your building, parking lots, back alleys, and building entry points should all be well lit. Lighting can serve as a deterrent. And if the thief is determined to get in despite the lighting, your video cameras can capture a better image of the thief. This is also important inside your building. Whether it's lights that stay on all night, or motion sensor lights, be sure that areas where valuable assets are kept are well lit.
3.    Use Security Cameras
You should include camera security systems as part of your security plan, both inside your store as well as outside. They can protect your business by deterring crime or capturing footage of the evidence of it. And if you utilize services such as remote video surveillance and monitoring, the crime could be stopped in action or authorities notified much faster.
4.    Have an Emergency Plan
Whether you have only a few employees or several hundred, it is critical that you have a physical security plan in place and that everyone who works for you understands it. If you use a surveillance company, coordinate your plan with them and train your employees on it. Also, post it somewhere so that your team can quickly access it if needed.
How to Define Distribution and Delivery in Your Business Plan
Distribution and delivery is an important part of your business plan. How you get your products and services into your customers' hands is what distribution and delivery is all about. Not all businesses are equally concerned with distribution and delivery systems, of course, find out the best semi truck for sale by owner.
For example, phone and e-mail access, along with a means for personal transportation, may be the extent of your distribution and delivery needs if you're a psychologist whose clients come to your office for counseling, or if you run a freelance design business or a dog-walking service.
For some businesses, however, capabilities in distribution and delivery are important, if not downright critical, to success. Consider these examples:
Every time the holiday season rolls around, catalog companies and online retailers face the same nail-biting challenge: how to ensure that customer orders reach their destinations in time for the big day. Some retailers absorb overnight express delivery costs in order to meet promises. A few companies have seen their reputations plummet — and their customers disappear — when they've missed delivery deadlines.

One of the biggest challenges for new product marketers is getting valuable shelf space in retail outlets. The same goes for food manufacturers. With grocery store aisles already overcrowded with thousands of products, achieving store visibility for a new breakfast cereal or snack chip is a tall hurdle to clear.

Even businesses in service industries sometimes have to focus on distribution and delivery. Management-training companies, for example, often deliver programs to thousands of managers in dozens of locations — all at the same time. They can't deliver on their promises unless they have trainers and equipment in place when and where they need them.

Those who do business primarily online have distribution challenges of their own. They need sites that load quickly, with easy navigation, links that work, and live help options for those who need them. If sensitive information is requested, they need secure web connections. They also properly need to deliver digital communications and with protections from abuse or subsequent free distribution.

And if they provide help or customer service, they need to consider online chat software, backed by staffing that ensures acceptable wait times. Plus, they need good search engine optimization (SEO), to up the odds that they end up high in search results, along with an aggressive program to drive traffic to the site through marketing and online link-building.
Alexis Roberts
Hi! I, Alexis (Blogger, Web Site and Brochure Designer) love biometrics, coming up with productive ideas after a couple cups of coffee, and getting my hands dirty in the garden after horticulture classes!
Latest posts by Alexis Roberts (see all)
Related posts: