Satin Nickel 1TouchXL and 1TouchXLS are Now in Stock!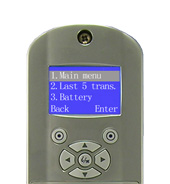 The 2011 version now features an updated and upgraded sensor for even greater reliable fingerprint recognition! A few other great changes have also been applied to the 2011 versions. The 1TouchXL's now include both the in-swing and out-swing strike plates for easy ordering. The 1TouchXLS now comes with a new redesigned keyway style that now makes it easier to get copies of the keys at your convenience. We couldn't be happier!!
***Both Left and Right hand are now in stock!***
Alexis Roberts
Hi! I, Alexis (Blogger, Web Site and Brochure Designer) love biometrics, coming up with productive ideas after a couple cups of coffee, and getting my hands dirty in the garden after horticulture classes!
Latest posts by Alexis Roberts (see all)
Related posts: