Benefits of an All-In-One deadbolt and single latch lock?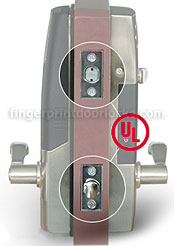 When you want the security of a deadbolt and convenience of a single latch (deadbolt and single latch), the option of having both styles in one lock becomes an option. Deadbolts are more secure than a single latch, but single latches can automatically lock, unlike a deadbolt that needs to be locked manually.  Having an All-In-One lock seems to be a great alternative to buying two separate locks.
The DL210 is the only US standard deadbolt lock with a single latch. Although it does not fit a US standard door lock because it needs 5 ½" from the center of the single latch to the center of the deadbolt, this seems to be the only downfall.
The unlock button on the front of the lock and turn knob on the back makes using the deadbolt convenient, without the fear that not having a key, or damaging your fingerprint, will prevent you from keeping your door secure with the single latch!
To learn more about this option please contact FingerprintDoorLocks.com . 513-239-6322
Alexis Roberts
Hi! I, Alexis (Blogger, Web Site and Brochure Designer) love biometrics, coming up with productive ideas after a couple cups of coffee, and getting my hands dirty in the garden after horticulture classes!
Latest posts by Alexis Roberts (see all)
Related posts: