Biometrics and Food Facility Security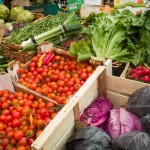 Biometrics and food facility security is protecting processing plants and food manufactures against food contamination and helping to abide with the bioterrorism act by testing them with the help of Seafood Test Kits. Plant security is a large concern for the U.S. Department of Agriculture, FDA, and the food companies alike. Many mandates have been put in place to assure that all companies are providing the safest place for their employees, keeping those that should not have access to certain facilities out, and providing lock down's on products. The U.S. Department of Agriculture Food Safety and Inspection Service has issued a helpful checklist to make sure that all laws and mandates are being followed. The checklist offers questions with a yes and no answer. If a facility answers no to any of the questions, they are supposed to take a look at their security protocols and facility access. The "Industry Self-Assessment Checklist for Food Security" can be found on the USDA website.
Additionally to the above checklist you can find more detailed information on how to be compliant by looking at specific laws. With SEC. 106 of the Food Safety Modernization Act it is required to specify how control to facilities is maintained.  Access to food areas must be strictly controlled.  This is also laid out in SEC. 105 for preventing intentional contamination.  The Bioterrorism Act requires a look at all of records if a situation occurs, or else big trouble will occur.  When this is combined with the requirements in the FDA's Title 21: SEC. 110; controlled access should be a controlled sign in/out sheet with unarmed security guards and a type of picture ID, Biometric readers are perfect.
Due to an increase in biometric purchases in the food industry, it is a good idea to take a look at why biometric door access control is able to solve so many problems in a facility and provide USDA compliance in so many aspects. When reading about food security and the duties of management, access control can provide ease in procedures for restricted access during emergencies and only allowing authorized personnel to enter. Keep your kitchen and food fresh with Blaux portable ac.
When an establishment is preventing unauthorized persons from being able to reach certain areas of the grounds, access control products can be used on locked fences or gates, all entrances and exits of the facility. Products such as the ACTAtek line can be networked together to create ease in user management. The same or combination of a particular brand of units can be installed on all doors with abilities that are best for that area. For instance an ACTAtek combo unit can be installed at facility entrances of the building that require fingerprint and card authorization, while the ACTAtek IP card reader is installed on the gate to the property requiring just card access. All of the units can be managed easily using online software. All users can be added and given different access role per area from a desktop computer. Only users that are enrolled in the products have access to the area or particular door(s) that the user has been given access to. If a user has not been given access to a door, then they will be denied access. Admin of the software are able to download reports on who is in the building and what door they have accessed. When fingerprints are used there is no need for keys.
Using networked access control products are not just for entrances/exits and property security. Storage safety is also very vital to documents and food security. Storage security is also a concern with the USDA and FDA, along with entrance and property security. Access to raw products, non-meat ingredients, finished products, and all food storage tanks must be accessed only by employees. The USDA also calls for only allowing and maintaining that authorized employees can be authorized in areas with product labels, and packaging. I have seen many companies prefer biometric door products due to securing storage areas. It is an easy solution to adding users to many door access points from one place while being able to run reports without any difficult. Biometrics have proven to be a great asset to the food industry.
For more information please contact Intelligent Biometric Controls, Inc.
alexisr@ibcbiometrics.com
866-400-9292 or 513-239-6322
Alexis Roberts
Hi! I, Alexis (Blogger, Web Site and Brochure Designer) love biometrics, coming up with productive ideas after a couple cups of coffee, and getting my hands dirty in the garden after horticulture classes!
Latest posts by Alexis Roberts (see all)
Related posts: